About Michael Jackson
Michael Jackson (Photo On Right is Michael Jackson )>>>
Michael Jackson has been preforming since the age of 5 as the youngest member of the Jackson 5. Since then his career has grown greatly, and he has earned the title "King of Pop".

During the 80's Michael suffered a serious skin diease that turned his skin to the color of white.(I would like to thank mjsizzler for the next tid bit fo info)MJ first nose job was done from the result of fall from the stage in 1977..during the Destiny tour..He broke his nose quite badly..Even though Mjj did not like his nose before.I can't say if he ever would have changed it before the incident..But this gave him what he always wanted ! To have his nose re-done..call it what you want..But Michael's nose was done mainly because of the accident...The doctors that did his nose made and error in MJJ's nose passage which resulted into MJJ not being able to breath properly..Even up to today MJJ has had serval nose operation to fix the first screw up...This is the reason for the many sugeries on his nose..Now the rest of the face sugery the cleft and what ever ..was added to give the face a more rounded off edge..MJJ has not had his lips done, and his cheeks done..or his jaw bone line altered ..If these things has been done it was not planned by MJJ..sometimes when you go into to get a certain part of you already surgery altered...they change other things too .So that it will. stay fit..The doctors might say..I think it will be best if we fixed this up a little and that..Im sure by now MJ has had some other re-justments made to his face..But he never went after to have them done in the first place they were somethings that were needed to accomodate the already things he had done like the Cleft he had alterd once or twice..MJJ looks to this day is 90% make over ..and a few sugeries..Look on the front of the TV guide where hes not wearing any make up..and look at him a few months later on the 30th anneversary special..NO make up ..then lots of make up.??.Its more of what you will call a make over...there are to many lies out there trying to shame his name..And make him out to be weird .


Michael's dance moves are lengendary, and almost impossible to immitate. Michael was the most sucessful recording artist of his time, and is still very popular today.......(Picture on Right is Michael Jackson)!>>>

Some of Michael's Famous Friends
Here are some of Michael's friends that are famous.....David Copperfield, Elizabeth Taylor, Janet Jackson, Weird Al Yankovich, Jon Travolta, Paula Abdul, Steven Spielberg, Berry Gordy, N*Sync, Diana Ross, Mick Jagger, Bill Clinton, Jimmy Carter, Ophra Winfrey, Ronald Regan, Paul Macartney, George Bush, Chris Tucker, 98 Degrees, Shaggy and Ric Roc, Shaquille O'Neal, Bruce Swedien, Boys 2 Men, Quincy Jones, Sherman Hemsly, Usher, Michael Jorden, Monica, Madonna, Billy Gilman, Lil Romeo, Master P, and Sheryl Crow.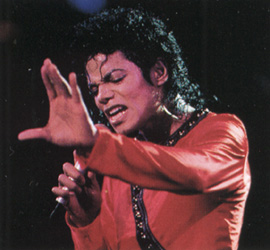 Michael's Albums
Off the Wall, Thriller, Bad, Dangerous, Blood on the Dance Floor, History Greatest Hits Volume 1, History Greatest Hits Volume 2, Invincable
My Email Address is philipgreenspun@gmail.com
Michael Jackson Is #1!!!